"I lost the backup password of my iPhone 6 Plus, how to recover it. This is the first time I meet this problem. I need to know the backup password so that I want to find a practical method to help with me. So if you know something please tell me. "
The iPhone users are used to take iTunes backup to backup their data. It is a good habit. And we also know that there is a backup password in iTunes. You can create a password in it in order to protect iPhone data. However, like other passwords, once you forget backup password in iPhone, you have to try to type the correct password to unlock it. But how to do that? In this topic, we are going to discuss the tips about iPhone backup password recovery.
iPhone backup file is a nice place to backup iPhone data. You can use it to backup all the material in iPhone. No matter what iPhone type is, you are able to use it to backup data. However, once you lost iPhone backup password, what can you do? You can actually use Tenorshare iPhone Backup Unlocker to do with it.
iPhone Backup Unlocker is a professional tool to unlock iPhone backup file. It is able to quickly recover or remove iTunes backup file password for all iOS devices. You can directly remove iTunes backup password by using this little software. And then continue to use the iTunes backup to backup iPhone files. It is now only support Windows platform.
Now you can see how to use iPhone Backup Unlocker to unlock iPhone backup file as below.
Step 1: Download this software from official website and then install it to your Windows-based computer. Open this application and then you will see the main interface of it.
Step 2: Then you can see 3 steps in this program. The steps one is to import backup file of your iPhone. You need to click the "Add" button to add backup file in your iPhone. It is a file named "Manifest.plist".
Step 3: After that, you can select the password attack type. One is Brute-force Attack, one is brute-force with Mask Attack, the rest is Dictionary Attack.
Brute-force Attack: In this type, you need to try all possible combinations but it will take more time.
Brute-force with Mask Attack: In this type, you can try customize numbers, symbols and characters, etc. You can click the "Setting" option to set it up.
Dictionary Attack: In this type, you will quickly find the password from inbuilt or customized dictionary. There is a "setting" option behind this type. You can click it.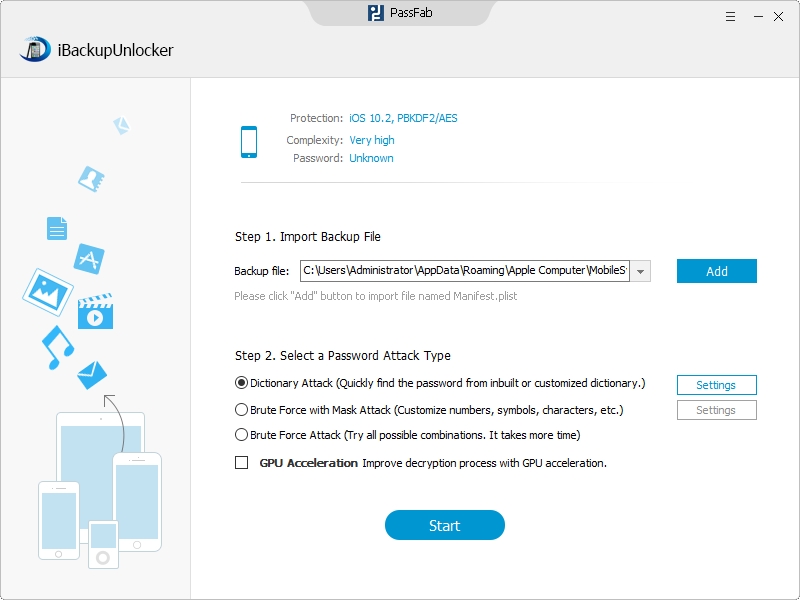 Step 4: After the above steps, you can click "Start" button to begin the password unlock process. After that, you will find out the password and then use the new password to unlock or recover iPhone backup password.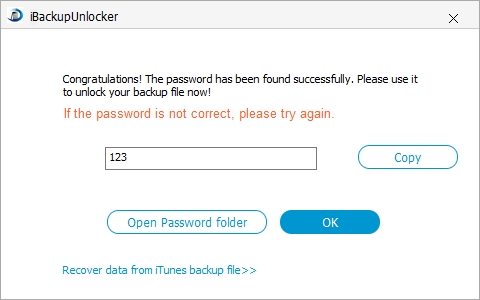 Well, that's all about how to unlock iPhone backup file with this iPhone backup password recovery tool. At last, you can also choose the checkbox to shutdown computer automatically after password recovery.